Xenith and James Bailey & Associates (JBA) Press Release – Tuesday, 5th April 2022
It is with great pleasure that Xenith and JBA announces they have today executed a merger agreement between the two companies.
JBA is an environmental and planning consultancy based in the Hunter Valley of NSW which delivers specialist services to the mining, energy, transport,construction and related industries.The JBA team of environmental and planning consultants have more than125years combined environmental impact assessment and planning approvals experience primarily on the Eastern Seaboard of Australia. Importantly, the JBA brand will be maintained, and will continue to be managed by James and his team of experts.
With an enviable client base,strong synergies have been identified with existing Xenith clients and the merged entity will be focused on growing the complementary services that we can offer.
Troy Turner said, Xenith's Managing Director said"after the merger with JBA (on the back of the Spinifex merger last year)we now have a team of ~ 75employees with specialist skills in our Brisbane, Sydney and Singleton offices, and given the larger business the opportunity to support our clients with their businesses consistent with ESG principles is very exciting.After working with the JBA team on several recent projects we felt the timing was right for us to merge as we believe this very strong market for resources, renewables,new ventures such as hydrogen, carbon capture & storag eand alternate sustainable land uses, will continue for some time to come. This merger will ensure we have the full width and depth of capability to fulfill Xenith's growing ESG business line".
James Bailey said that "the merger with Xenith will undoubtedly provide enhanced client support to increase our offerings and grow our footprint across all states in Australia and internationally".
Both companies are looking forward to this exciting change, building our relationships and strengthening the overall business so that we continue to deliver quality services to our exceptional client base.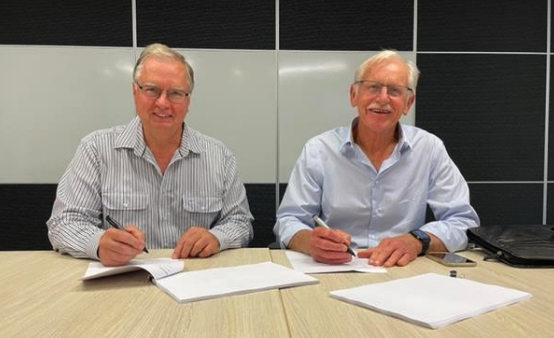 Director of JBA, James Bailey and Xenith Chairman,Paul Westcott signing the Merger Agreement.